So waaaaay back in March Toni dragged me with her to a quilt store in Chicago (as she is want to do) and to my surprise I actually found an item there that wasn't quilted that interested me. Tote bins in various sizes that could be collapsed for stage and transport; aka pop up bins.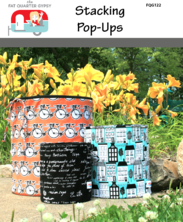 Designed by Jo (the Fat Quarter Gypsy), these lovely bins immediately struck me as something practical I could use around the house and at conventions to hold my yarn and supplies while I was working on projects when not at my work desk. Well, half a year later I finally got to make mine! How did they turn out? Pretty good if I may say so myself. 😉
I made 2 different sizes, the large and medium, and did each of the suggested finishing techniques as well for the top. If you look hard at the large bin on the left you'll see I even added pockets to hold my tools in when it's in use. So, being a casual/novice when it comes to sewing what did I think of it? The pattern is simple enough to do if you understand how to use a machine, but the pattern it's self assumes you know several sewing terms and image short hand. Thankfully we live in an era where information is only a few screen taps or key strokes away, but I'd still recommend talking to someone with more experience with sewing and patterns first to have them explain the process before you jump right in with this as your first pattern.
On the finished product its self, I do feel it's a sturdy design, with the required wire being very thick and heavy duty enough to support not just the frame but a bit of a beating from being toted about as well. I wouldn't be surprised at all if the wire outlived the fabric really. Since I just finished them on Sunday I can't speak yet to how well my additions and durability during construction turned out, but the ties have been holding it down nicely on the large one since Sunday night, and I know they'll be incredibly helpful when I'm working with balls of yarn to keep them from rolling all around the room.
If you're looking for a simple project and have someone who can help explain the pattern instructions if you've never sewn before, then this one might not be too bad. The first one took me about 3 hours to make as I sussed everything out and prepared the fabric for both, but the second one only took me about 30mins of just sewing once I knew what I needed to do. The fabric required is also very minimal with only a bit more than a yard needed for the medium size one (which measures ~8″ tall). So overall I'd recommend these if you like using bins to hold your stuff and as a fairly simple sewing project if you're not into making clothes.
If you go to The Fat Quarter Gypsy site they have a full range of sizes from mini to extra large that you can make, and if a seller isn't near your area you can purchase the pattern and wire ring directly from the designer herself here instead. 🙂