A bit of a step back in difficulty from last week, and yet this one is slightly more annoying to make (more on that in a bit, lol). So we go thru a lot of plastic baggies for conventions and I thought this pattern would be great to help reduce on that waste! Not to mention you can claim a fabric as 'yours' so no more need to write a name on bags either! 😀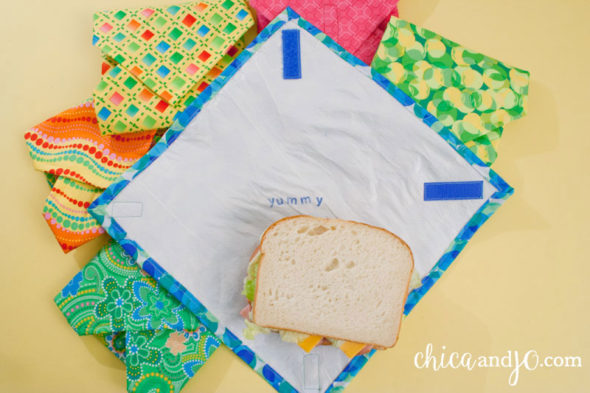 These are plastic sandwich wraps from the ladies at Chica and Jo. Now, right off the bat, I'm gonna admit that I changed one main aspect about this pattern. While it walks you thru the steps very nicely for how to make fused plastic from extra plastic shopping bags…none of my attempts really ended up with something I liked. We also have been using reusable shopping bags here for years so I didn't have much to work with. Instead I just bought some plastic from Joanns for like $3 a yard. Totally worth it.
Okay, so it's hard to see since my plastic is clear, but want to cut a 14″x14″ square of the fabric and a 12″x12″ square of the plastic. With wrong side facing you for the fabric, lay the plastic on top; centering it to give a 1″ border all around. Now the next step is hard to explain and I couldn't be bothered to take pics of it, but basically you have to do a double fold over all around the border and pin it in place. See the Chica and Jo site for great photos to walk you thru it. I personally used my iron to hold down the first 1/2″ fold to make my pinning life easier, but you do what works for you.
With all your pins in place, you simply sew around the boarder to attach these two. I recommend sewing as close to the fold as you feel comfortable to reduce the size of the hangover for your finished piece. Once that's done you just need to add velcro; which is used to hold your wrap in place. You'll need 2 pieces total: a 1″ long and a 2″ long piece. Now the only velcro I have is 2″ wide, so I just did two 1″x2″ pieces. You'll be attaching them in the corners with 2 on the inside, and 2 on the outside.
Once they're on, that's it! You have a finished wrap! The plastic will make it very easy to clean up as you can just wipe off and dressing/condiments or even toss the whole piece in the wash for bad stains. I wouldn't recommend putting it in the dryer (cause plastic), but just let it air dry by laying flat instead.
Overall I give this pattern 4/5 bobbins. It seems like it can work great, and I look forward to giving it a try at C2E2 this weekend, but until I do I can't say as to how well it performs. I may come back and give it 5/5 if it amazing, lol.