Two weeks ago my internet exploded with links to this: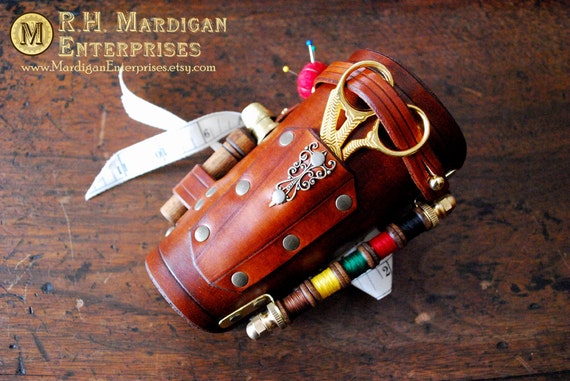 It's beautiful, practical, and just amazing. R.H. Mardigan Enterprises creates beautiful steampunk inspired accessories, but the Tailor's Assistant has the added bonus of being incredibly useful. Unlike many costume accessories, this is fully functional.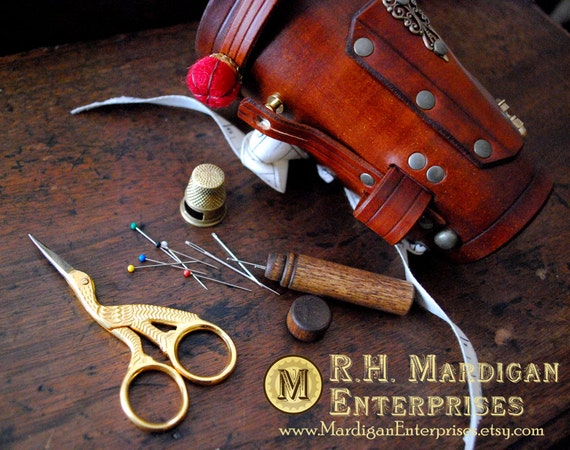 Everything comes off and can be used. It has a needle case, thread bobbins, scissor holder, thimble, pincushion, and it is all tied together with ribbon that doubles as a measuring tape.
It brought back for me the age old question of "how do you keep all your favorite tools on hand?" when it comes to crafting. For those of us who sew, this can pose interesting problems, as there are a myriad of small, difficult to keep track of, items like needles and pins, in addition to all those other pesky things like clamps, thread, thread cutters, and of course your favorite pair of small snip scissors.
If you have the luxury of working in your own space all the time, this doesn't become too much of an issue. You can organise your space and the various items you need regularly. However, if you don't have that luxury, or if your crafting space is shared with, let's say, your other half or (heaven help you) children, then you'll know that this isn't necessarily the easiest task.
When I worked in theatre, it was usually in a costume shop. When you're in a place like that and especially if you're as protective as I am about your tools, you quickly learn that if you want to bring in your own tools you need a way to keep them with you at all times lest they go… missing. (I'm not saying it was you, Linda, but I did really like those stork scissors) Even when they don't go missing, sewing large projects can mean a lot of movement as you shift from cutting to sewing and back again.
My solution was simple, but I tried to make it pretty (although nowhere near as gorgeous as The Tailor's Assistant). Every pair of scissors I own bears a ribbon tied around their handles. My prized tailor tips have a much longer ribbon that extends over my head, making it possible for me to always have it, no matter where I move in the room. This solution is both handy, and unique. Even when others in the shop began doing similar, we all chose different ribbons.
This also meant that instructing new roommates and partners not to use the "good" scissors became simple (which, considering my set came direct from Gingher at a pretty penny was something I have always been concerned about). They can use any pair of scissors that don't have a ribbon on the handle. Simple, effective, and it looks well.
This solution can work for other items as well. My Clover travel thread cutter has a silver elastic string, making it function as a flexible necklace as well as preventing it from slipping away and being lost.
But it doesn't fix the issue for many of the other little items that I'd like to have with me and I'm constantly having to backtrack across the room for my pins or a new needle, or whatnot.
How do you organise your favorite tools or do you?
For those interested in a Tailor's Assistant of their own, R.H. Mardigan Enterprises can be found on Etsy, Facebook, Instagram and Tumblr.
~ eliste