Last week I talked about the anatomy of the needle.  Today we are going to look at the different types of needles and what you use them for.  All of this information is courtesy of Schmetz and Generations Quilt Patterns.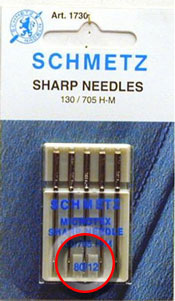 When a quilter talks about sewing machine needle sizes, they'll say, "It's an 80" or "It's a 12" or "It's an 80/12".
Just what exactly do those numbers mean?
The Sizing Systems
The sizes are found on the front of the packaging (circled in red to the right).
That first number is the Number Metric (shown as NM). This system was set up in the 1940's to standardize needle sizes.
It is simply the diameter of the needle shaft in millimeters multiplied by 100 to get rid of the pesky decimal places. That means that our standard "80" needle is really .80mm in diameter. (You're glad you asked, right?)
What it means to you as a quilter is:
The larger the needle size, the stronger and thicker the shaft.
So where does the '12' of the 80/12 name come from?
It is nothing more than the merging of two measuring systems. The '12' comes from the corresponding Singer or US needle system. The '80', as we've learned, is the diameter of the shaft in millimeters multiplied by 100.
Next week I will talk about trouble shooting needle problems and how often you should change them.
Would you like to save and carry any of this information about needles?  Schmetz has their own app!  It has all of the information we have shared here plus more.  Download it from the Apple App Store or Google Play.
-Toni