Happy Wednesday! This is Kim, with Fantastical Menagerie. Last week we talked about keeping clay soft in winter, today I'm going to start you on how to make fruit tarts in clay.
For this project, you need the following:
pastry shell mold, preferably silicone. You can find them on Etsy here
a small dollhouse plate
Sculpey Bake n Bond. This can be found in the polymer clay aisle.
Premo clay in ecru, pomegranate, and either green pearl or jungle green. You can get it from any craft or hobby store.
tweezers, needle tool, and flat blade or razor.
Optional: pearl x powders in Macropearl, green and antique bronze.
1. Condition your clay. Leave the red until last because the color transfers.
2. Take a small piece of the ecru clay, roll it into a ball, and press it into your mold.
3. Carefully remove your clay from the mold. If there is any excess, use your razor to trim it to shape.
4. Add a small amount of Sculpey Bake & Bond to the plate. Put your tart shell in the center over the adhesive.
5. Optional- use a brush and add a little Pearl X Antique bronze on the tart shell to simulate color from baking. Add a bit of Bake & Bond to the center of the tart.
6. Make your leaves for the strawberries. Roll two small balls of green clay into a teardrop shape. Flatten them, and use your needle to run a line down the center of each. Then use the needle to draw veins into the leaves.
7. Roll out five small balls of Premo Pomegranate clay. Approx 4 mm in diameter. These will become your strawberries.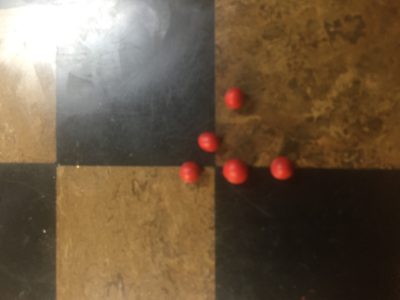 This tutorial will pick up next Wednesday, where I will show you how to form the strawberries, and then put everything together to form the piece.