Good Morning and Happy Wednesday! This is Kim, of Fantastical Menagerie. Today I'm bringing you the second half of my Fruit Tart Tutorial. The first part can be found here.
1. Roll out five small balls of Premo brand polymer clay in Pomagranate. Approx 4 mm in diameter.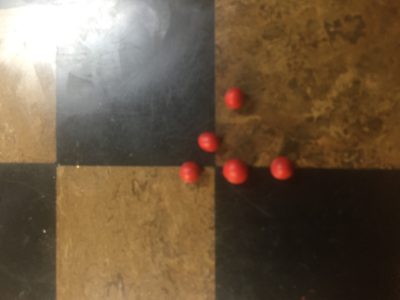 2. Shape each one into a teardrop shape.
3. Flatten it slightly on your finger.
4. Using your needle ended tool, make small dots on the teardrop shape. They should be in alternating rows, all the way to the back end.
5. Place into the shell, with flat ends in the center.
6. Take the fifth berry, and add the green leaves to the top. Place it on top of the other four.
7. Optional- use green Pearl X on the leaves, and a dusting of the macro pearl on the berries for shine.
8. Put the finished piece into the oven. I would recommend 240 F, for approx 30 minutes. Once it cools, you can add findings to turn it into a pendant, earrings or a pin.