Good morning Thursday Crafthackers!
I came across this lovely DIY that is amazingly versatile since you can apply the same techniques to different holidays. All you need to do is use different colours and accents. Since Halloween is coming up soon though, it's going to be a Halloween one, because it's a holiday I love. I didn't make this up myself, so you can find the full and original tutorial here.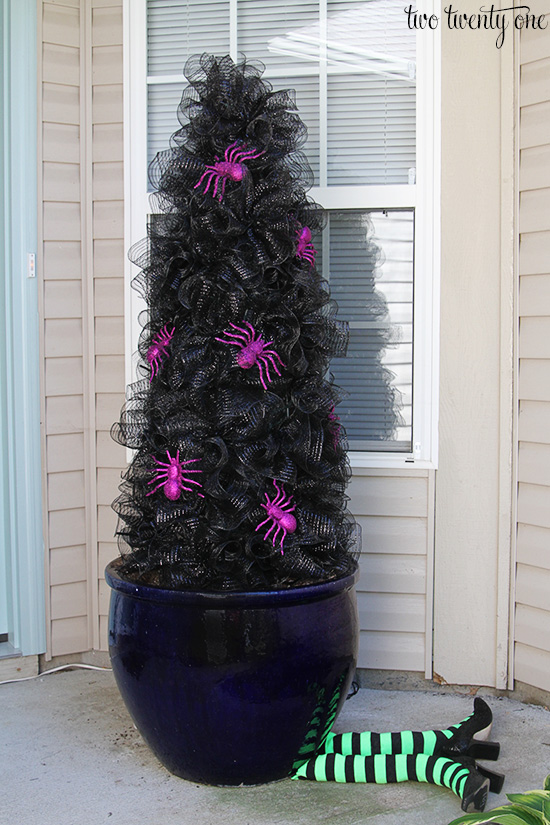 You'll need some materials, but they can be found at craft stores or hardware stores. If you make these a little closer to the holiday, you can often find the seasonal stuff on sale. You will need a 54″ tomato cage (lots of hardware stores sell them year round, but if not in your area, you could always order one) and you could do it any size for your space with a tutorial for making one from a larger cage here, but we will do this larger size for outdoor. You will also need 10-15 zip ties, 2 sets of 100 christmas lights (white works well with any colour ribbon, but keep in mind, if you can find other colours, purple or green would look just amazing), 5 rolls of mesh ribbon, 100 black pipe cleaners and extra seasonal decorations of your choice (like spiders, witches hats, sparkly pumpkins…)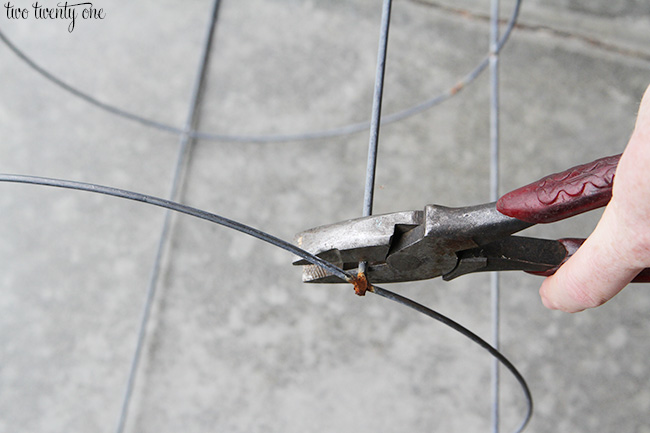 If you're going to be putting your tree into some soil, in a pot or on the ground, you can cut the widest ring off the cage so you can create stakes to hold them in place.You could also skip this step and have it sit on a flat surface, though you might need some extra ribbon.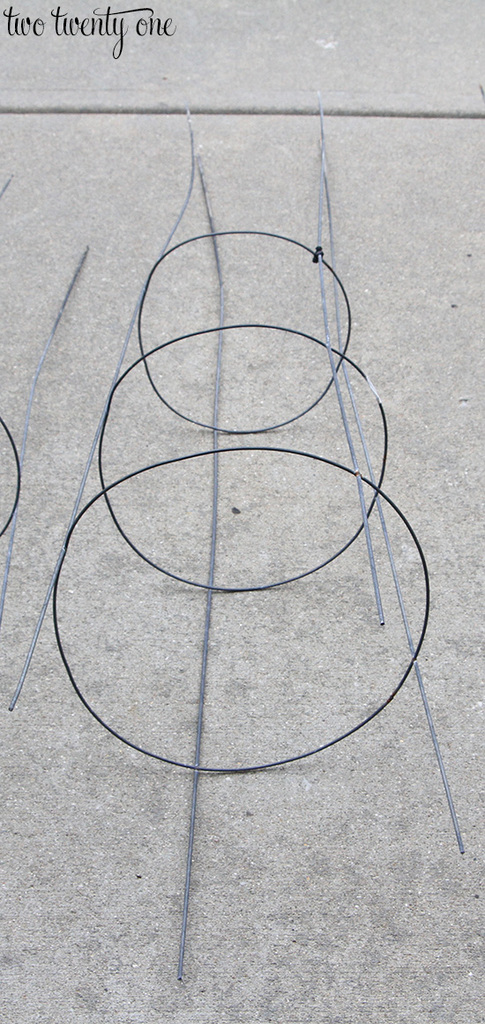 Use a zip tie to attach together the top of the tree (the bottom of the cage) to create a tip that comes together.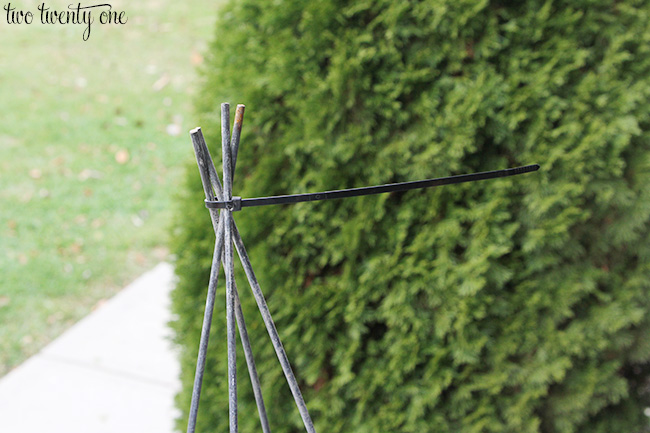 Start adding lights and loop them around and around, using the zip ties to secure them every so often when they get droopy. You're now ready to cut your ribbon.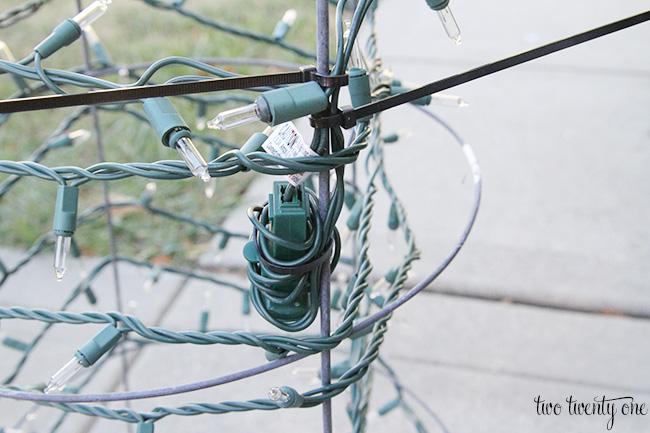 You can use scissors. But if you have a rotary cutter, you can go for that too. Cut them at 10″ each so if you have 10″ wide ribbon, you'll end up with 10″ squares.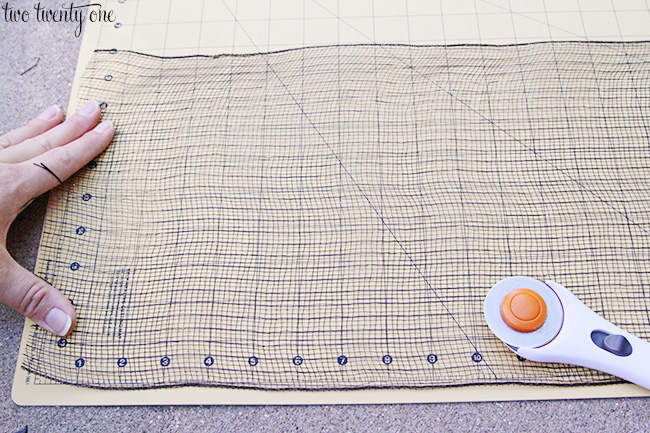 Attach one pipe cleaner to the cage.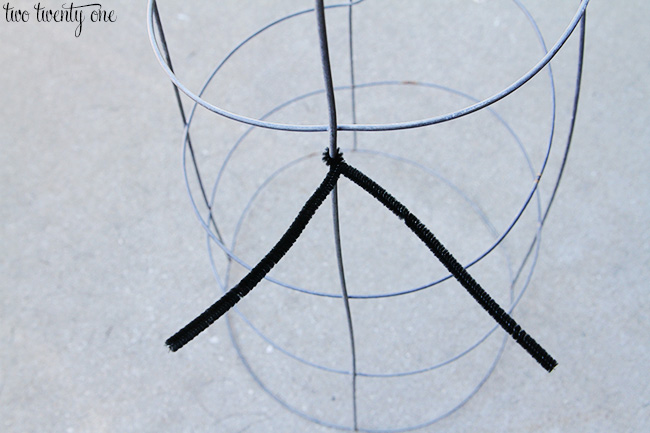 Accordion fold two pieces of mesh and hold them side by side.
Twist them in the pipe cleaner. Repeat this at least twice per pipe cleaner, and keep adding the mesh until the tree is covered. You can clip any ends of pipe cleaners if they are a little long, but save them so you can use them to attach the decor.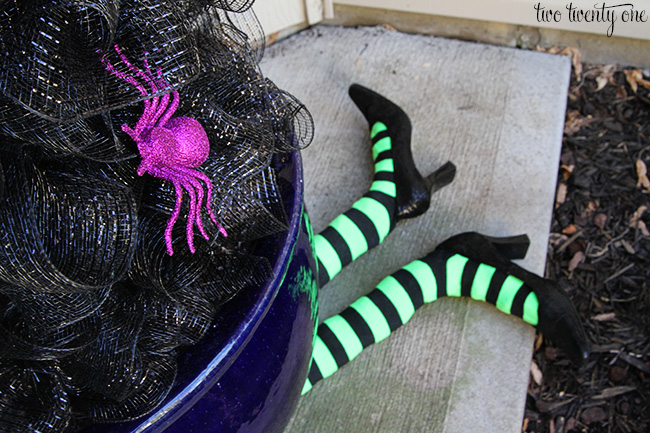 Attach your little seasonal decorations to the pipe cleaners (or add in any extras you might want to). This tutorial writer even added witches legs, that would be super easy to do and super cute coming out of the bottom of a planter pot.
And you're done. And  you're fabulous. And the best part is that after this tutorial you have a beautiful Halloween tree that's covered in sparkly decorations and lights up when you plug it in.
Happy crafting!
~ Megan