Hey Thursday Readers!
Still being in the throws of wedding season, I thought another DIY gift would be in order. You can make something like this for a shower before the wedding so that the couple can use it on the day of their wedding, or it can be a gift for after that they can leave by the sink to put rings in while we wash dishes. This project was taken from Intimate Weddings, so feel free to check the full tutorial here.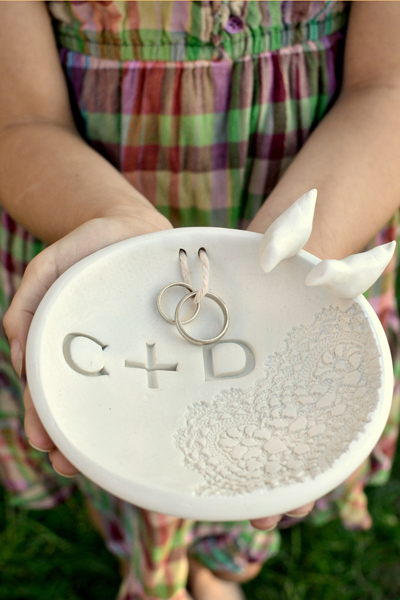 For this beautiful and simple project, you'll need:
795 gram package of White Oven Bake Clay (which should be available at any local craft store.
Letter Stamps (also should be easy to find at a craft store)
Rolling Pin
Bamboo stock or chopstick for to use as an awl to poke holes.
Lid to cut out the shape (like a lid for a tub of ice cream)
Fine sandpaper
Parchment paper.
A smallish oven safe bowl (like Pyrex)
Spray sealant and paint for finishing if you would like it.
Your first step is to form your dough into a ball and place it on the parchment or silicone liner. Roll your dough out with your rolling pin until it is about 1/4 inch thick.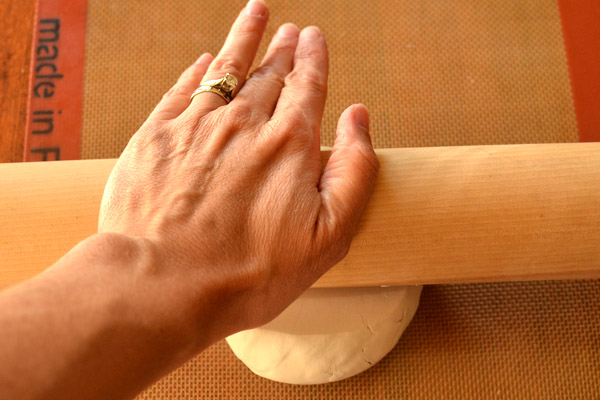 Place your fabric doily where you would like it to appear (you can put it in the centre or off to the side and either way it would look fabulous). Roll your rolling pin over top of it to press the design into the clay.
Use your lid to establish how big your bowl will be and to use it as a centre point to choose where to put your letters. You can do initials, or names, you could even do a small poem if your letters are small.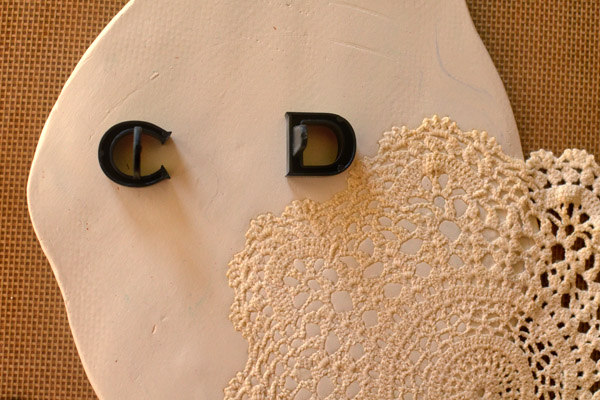 When you're ready to cut the shape, peel off your doily to reveal the beautiful imprint.
Use your lid to cut the clay and form your circle. Save any excess clay for future projects.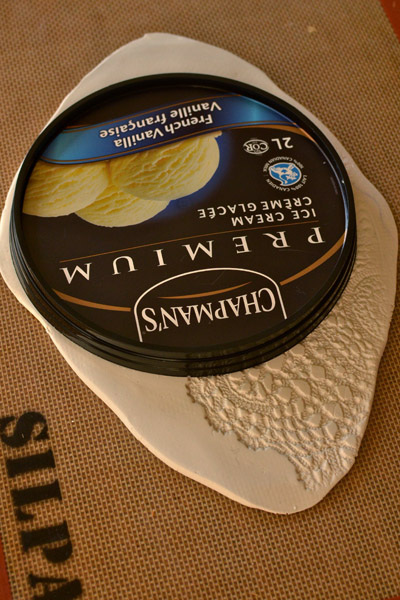 After you remove the clay and the lid, you'll have a circle that's ready to be moulded into a bowl.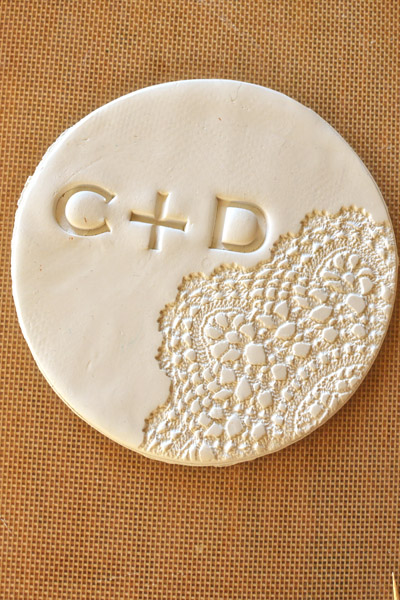 Use your awl tools to poke two holes at the top of the plate if you're thinking of giving this as a ring bearer bowl at a wedding. You can omit these if it's to be used as a ring dish at the sink or elsewhere.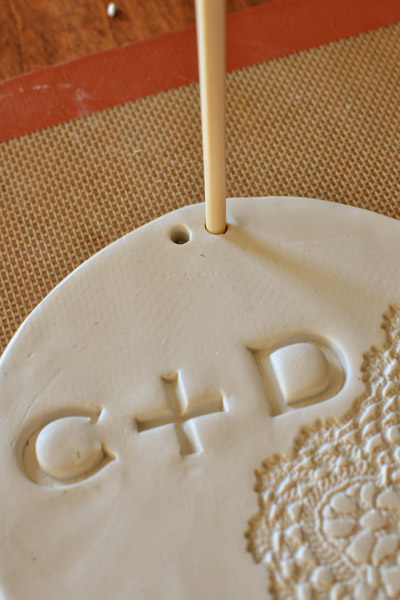 Next you need to form your birds (if you're making birds) or any other accents that you would like. If you're making something you'd like to have stand on the side of the dish, use an existing dish to form the clay underneath them so they will be easy to adhere to the bowl.
Place your soft clay plate into the bottom of your oven safe bowl. Remember, it should be big enough to create a bowl, but not so small that your bowl is a teacup.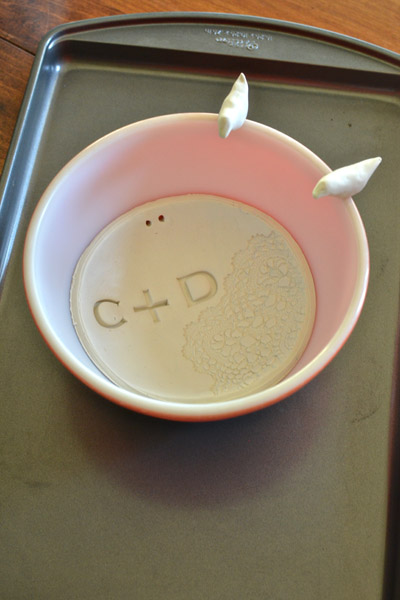 Place oven-safe bowl (and birds) on a cookie sheet and put into the oven for approximately 30 minutes (use the baking directions on the package, please!). When it's done, remove from oven and let cool inside bowl for 20 mins. When cool, turn bowl over. It should pop right out.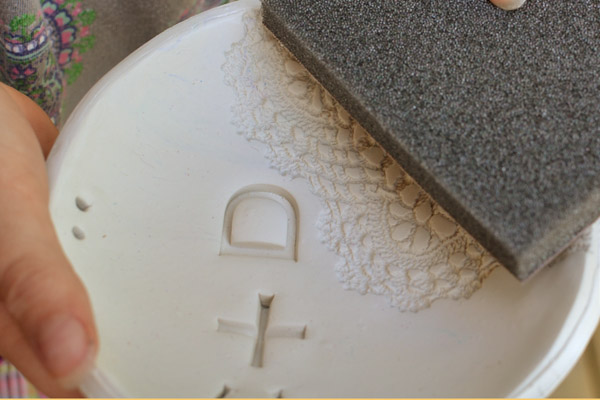 Sand down the edges of your bowl until they are nice and smooth, as well as your birds. A sandpaper sponge would be ideal for this as opposed to regular old sandpaper. Use a little superglue to adhere your birds to the dish.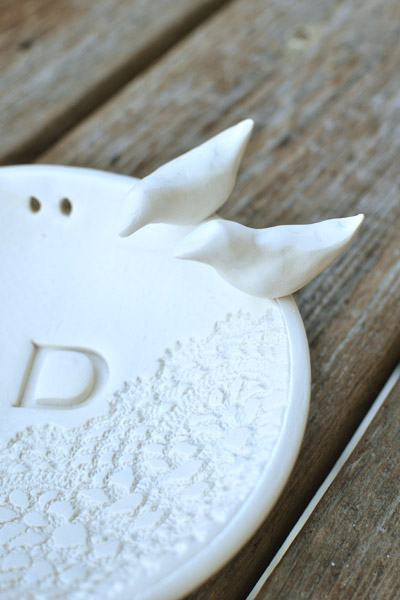 And you're done! Well. If you're inclined to paint your project, now would be the time, or add accents in paint or gold leaf or anything fancy like that. If you're adding extra touches at the end, or if you're going to be having this dish be for ring removal when you're washing, I would make sure to use a good spray sealant so that the paint is sealed on, and the water can't get in.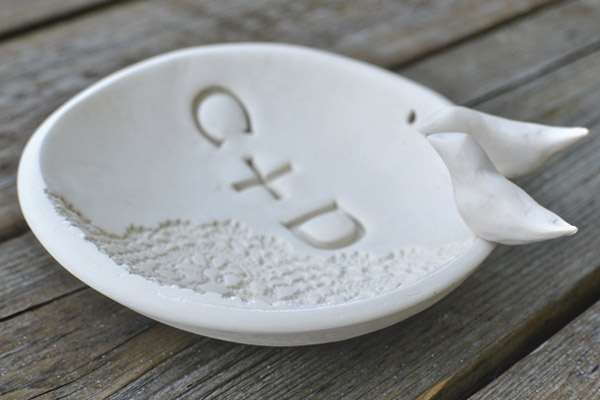 and you're done! A beautiful gift, that takes just a little creativity.
Happy crafting!
~Megan