Good morning Thursday Crafthackers!
I have a beautiful, easy tutorial for you to spice up your balcony garden, or any place where you've got plants. Actually, what I love the most about this tutorial is that it can be used on more than just planters. You could use it on almost anything you can dip. You can find the original tutorial here, and check out how cool this looks…
The best part is that you can walk into any dollar store or craft store and find something you can dip. These can make amazing gifts for birthdays, bridal showers, or even just to give your home a little colour. Just remember that with this particular technique, you're using spray paint, and so you will want to make sure this all stays on the outside of whatever project you're doing. I wouldn't say this is food safe.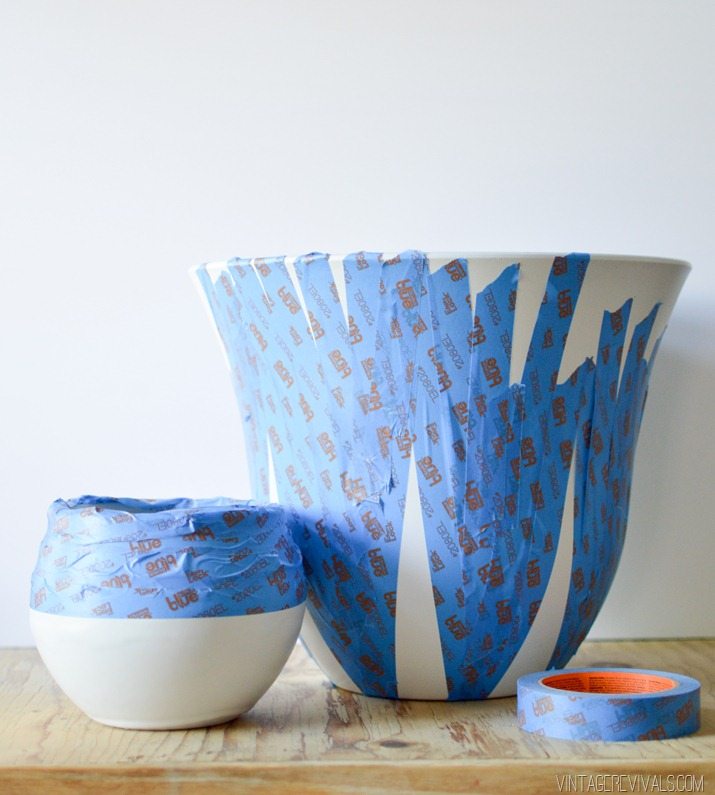 So, your first step is to get spray paints of the colurs you would like to marble. RustOleum is recommended if you're looking for metallics, but the rest is up to you! You will also need a container deep enough for whatever you want to dip. So a bucket or a tote would work very well. You might also want to test your dips before actually working on your piece, so some paper cups would come in handy. You'll also need some painters tape, if you're wanting to have some sharp edges. And that will be your first step (see above), to tape off any areas you do not want dipped,  or not, as you prefer.
Start to add your spray paint to the water filled tub. You will need to do this quickly, so read everything first and then start. Make sure to hold your spray can about 10 inches from the water, so you don't get bubbles that will show up on your finished piece.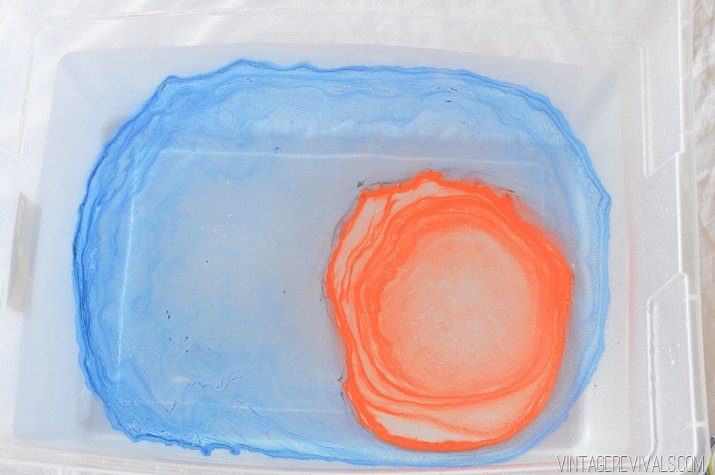 Add as many colours as you'd like, and spray them in in different places.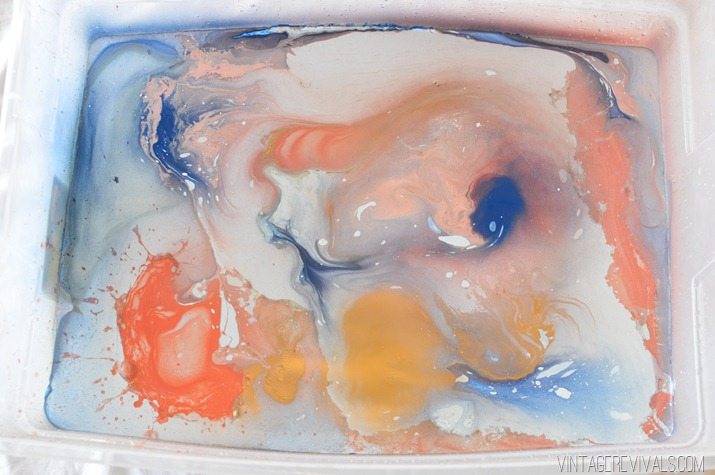 When you've added all of your colours, give your bucket a very gentle couple of taps on the side to make waves (not bubbles) to swirl the paint around.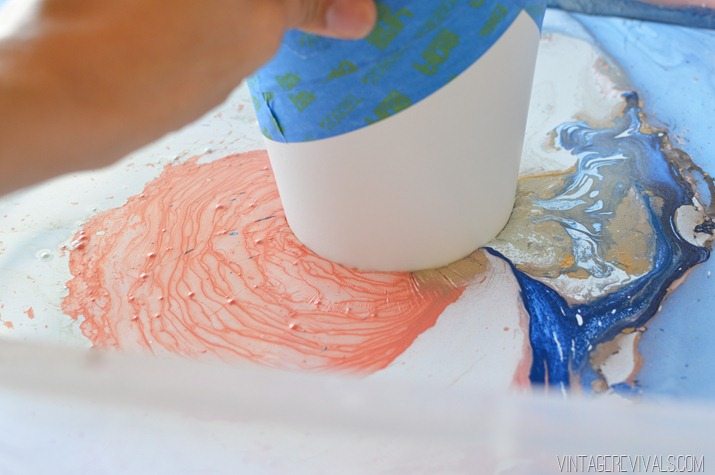 Slowly dip your project into the water. If you go too fast or if your paint is too dry (see my comment about working fast above), the paint surface will break and you will have gaps with uneven edges.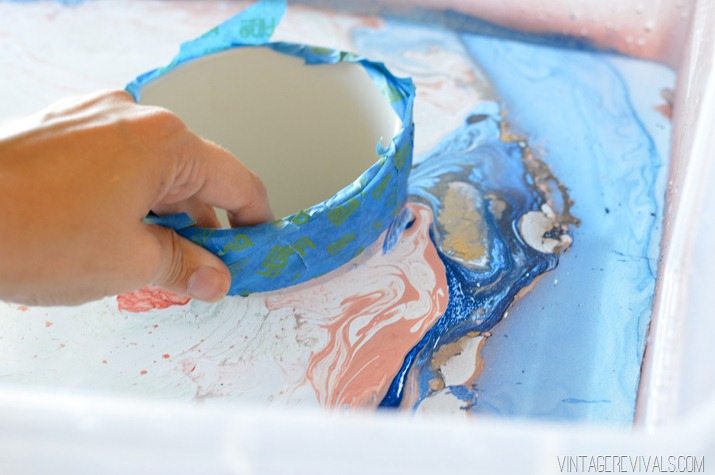 Dip the planter into the water as far as you'd like and hold it there for about 30 seconds while you lightly fan the paint surface to quicken drying. If you used painters tape, it will make it so that any wiggling that would put more paint on in that area, will be removable.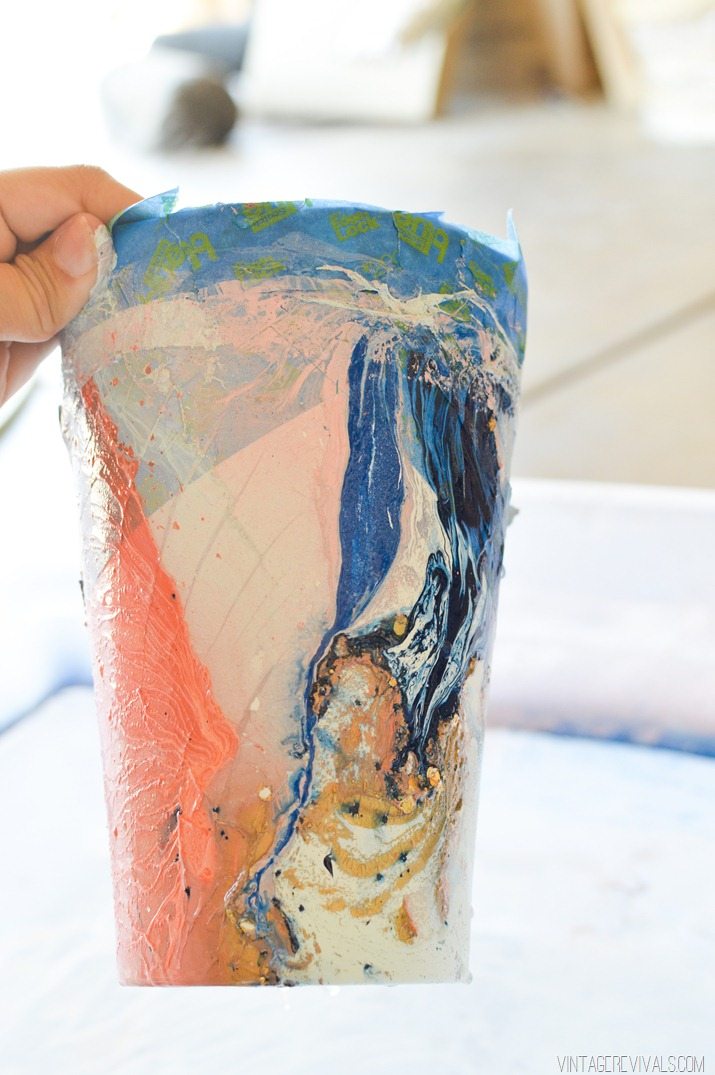 Use a spoon to wipe away all the remaining paint floating on the surface of the water (you might want to use a plastic spoon for that). This will allow your project to come out with a clean design.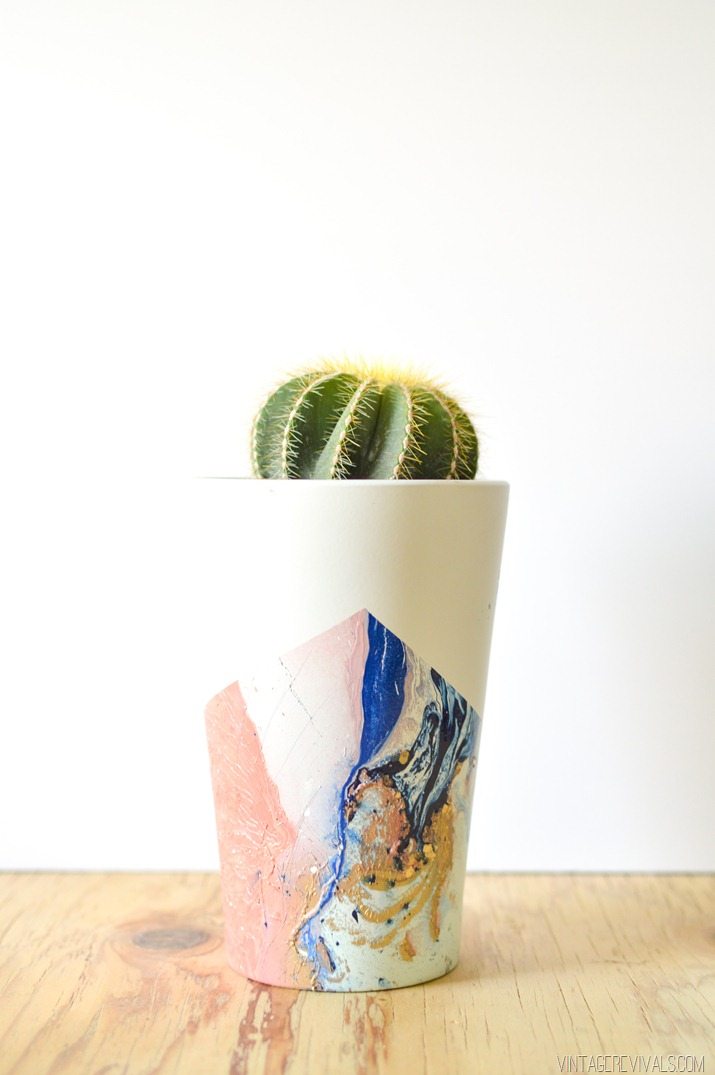 Let everything dry completely before you remove your painter's tape. And voila! You're done. You might want to give a spray with a sealant if you're planning on using these outside, so that inclement weather doesn't have any ill effects on your work of art. Hope you enjoyed the tutorial!
Happy Crafting!
~Megan