Something that was all the rage over 100 years ago has been making a steady comeback in the last few years that intrigues and delights me; solid perfume. Back before aerosols were a things/possible, well off people would purchase their perfume as solids (or oils) that they would apply to smell lovely and clean. This concept has been making a return to form thanks to the desire for natural make-ups and beauty products, though not all are quite like the line For Strange Women.
Handmade with natural ingredients by Jill of Kansas City, Missouri; the For Strange Women perfumes come in variety of containers that have a very 1800s/Gothic style about them. The names are like wise inspired by the time with such fragrances as:
Satin Corset (lilies, sweet, vanilla, hypnotic, powdery floral)
Nightshade Garden (citrus, leaves, tomato vine, yellow-green, uplifting)
Antique Settee (Earl Grey tea, polished wood, faint floral)
Winter Kitty (snow, comforting sweet musk, amber, woodsmoke)
Fireside Story (sandalwood, vanilla, campfire, smokey)
Vetiver Single Note (honey, sweet & earthy, grounding)
Violin in the Attic (heavy woods, sweet resins, dusty undertones)
You can test these fragrances, and more, by ordering her perfume ribbons.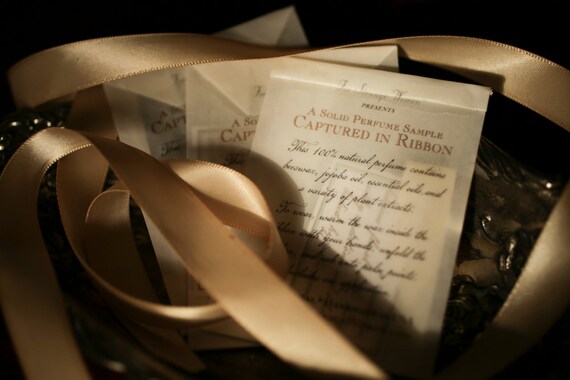 These are small ribbon strips with .1g of perfume (about one application) infused into them. Once you've tried it they recommend using it to freshen your dresser drawers as the smell will linger with the ribbon and can infuse the clothes as a result. I've never been a perfume wearing person, but this line has me intrigued. They're definitely worth a look through at their beautiful packaging and design at the very least.